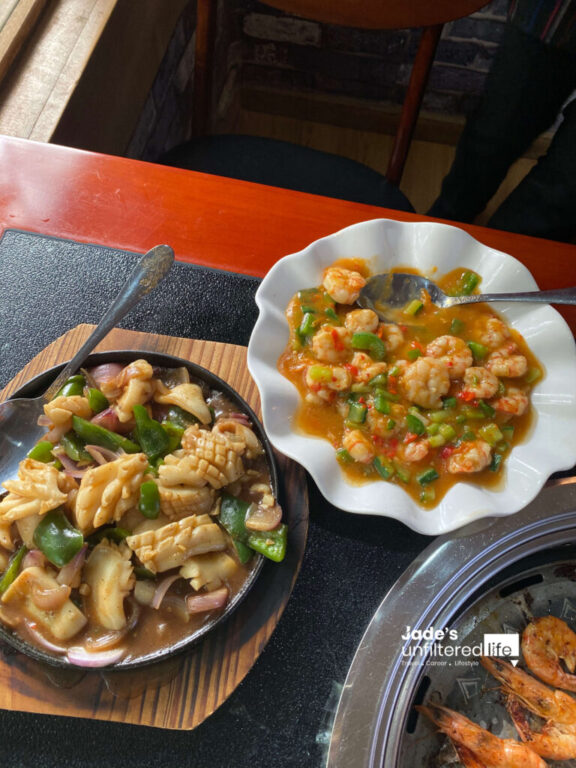 05 Dec

Experiencing Korean-Chinese Food for the First Time at Hua Han Restaurant Ikeja

다시 오신 것을 환영합니다

That's how you say Welcome back in Korean. While my French is semi-fluent, I do not speak Korean. That greeting was solely powered by Google Translate and I do not take any blame for errors in translation.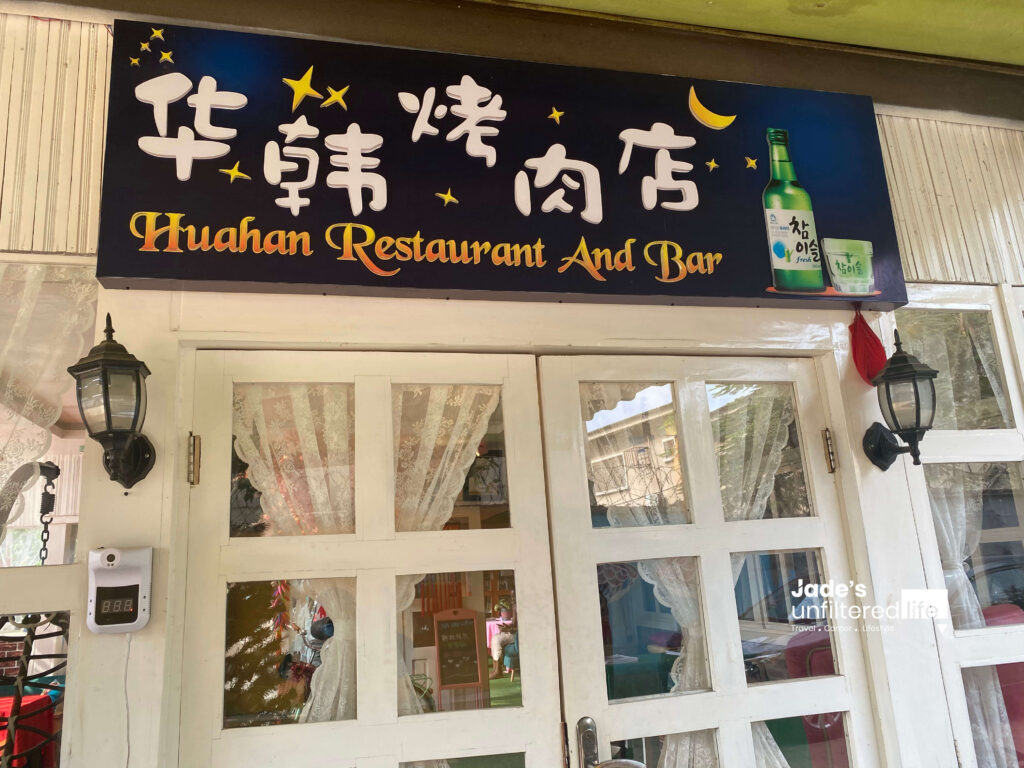 From the title, you already know this is another Lagos restaurant review; this time, myself and Yemisi visited Hua Han, a Korean-Chinese restaurant in Ikeja GRA. I can't remember the first time I heard about Hua Han, but I know that I have wanted to visit for the longest time and on one Sunday afternoon in November, we finally had lunch there.
As usual, if you would prefer to watch me eat and talk (not at the same time every time), you can watch this video.
Now let's get to the other details:
Getting to Hua Han
They took the "tucked away" metaphor literally and that made it a little hard for us to locate. We had alighted from our Uber only to discover that the actual address of Hua Han was not 45C Sola Arobiodu street but Sasegbon street. 
Decor and Ambience
Having too many flowers (emphasis on too many) in a commercial establishment like a clothing store or restaurant, in this case, might leave people confused as to what your line of business is. I would say that Hua Han is not even trying to find a balance. Whether you're there for the food or to take photos, you're sure to leave with whatever it is you came or. On entering the space, you would be greeted with the sight of flowers, paintings, and lovely props. We saw some people taking photos while we walked in and of course, we took some photos before leaving.
Our First Experience of Korean Food
While Hua Han is known for being a Korean restaurant, they serve both Korean and Chinese food and have different menus for the two cultures. Seeing that we're such multicultural and cosmopolitan babes, we chose food from both sides.
Since I'm not the typical Nigerian lecturer who only looks out for errors rather than positives, let me tell right here and now that the food at Hua Han was delicious. In trying to look for something I disliked about the food we ate, I'm only reminded of how happy I was when I took my first bite of the lettuce-wrapped beef in the Korean BBQ platter. (I actually moaned in pleasure).
The Korean BBQ platter had Beef, Pork, Squid, Shrimp and Chicken and with that we were able to have a taste of everything offered. Our waiter was gracious enough to show us how to eat and maximize the flavors in each portion and it was beyond delicious! Did I tell you they grilled everything in the BBQ platter right in front of us. That was my first time experiencing that.
The makings of the BBQ platter
Because our waiter told us the rice gets clumpy if left out for a while, we had to quickly move on to the Fried Shrimp in chilli sauce and Fried Squid in Black Bean Sauce. I loved both of these sauces because number one, they had seafood and number two, they were so tasty. I'm going to look for a recipe and recreate at least one of them on my next visit to the Makoko Seafood market.
Fried shrimp sauce on the far left and Fried squid sauce on the far right
Yemisi particularly asked for the Korean Fried Chicken because of a review of Hua Han from EatDrinkLagos. This, for me, was a little dry. Tasted good but dry – I had to hydrate it with some liquid from my Shrimp sauce which elevated the taste. Looking at Folly and Nosa's review, I think this meal was supposed to come with a sweet and sour sauce but we didn't get this. Make sure to ask for the sauce.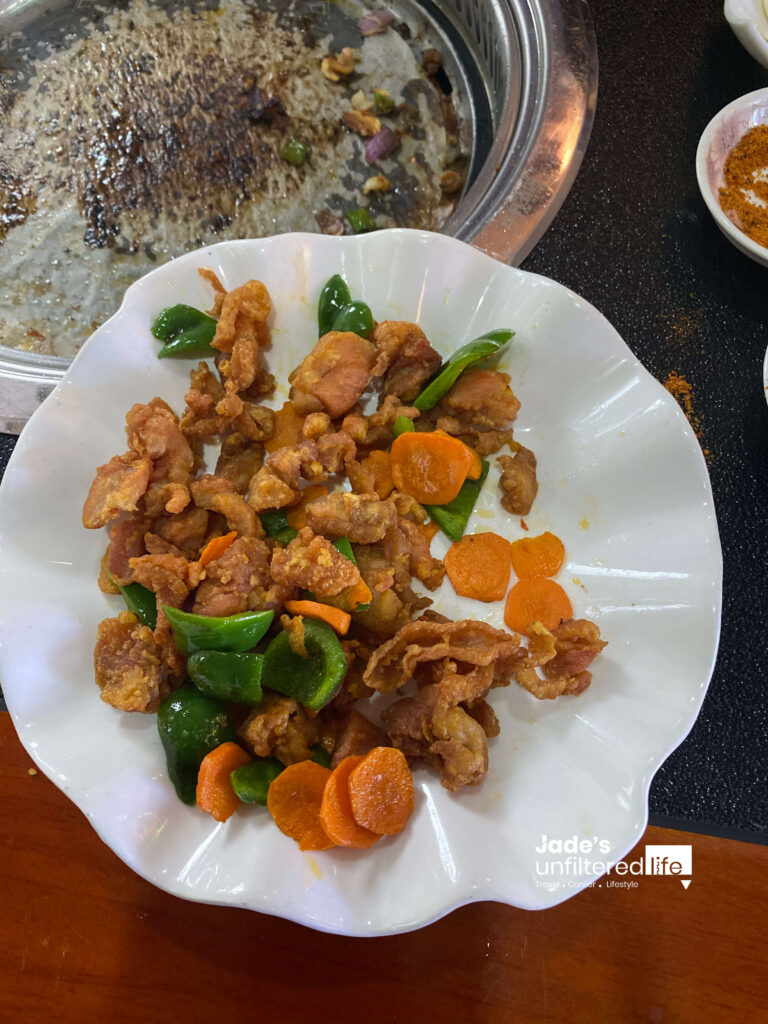 Now if you watch K-Drama, gather here for a quick selfie. I used to watch a lot of K-Drama while in school and from there I learned about Kimchi i.e spicy cabbage. I also follow Korean Wife's table on IG and she makes Korean food look gorgeous! When myself and Yemisi finalized the decision to visit Hua Han, I knew that I had to try Kimchi to fulfil my K-Drama fantasies. I hate to say it but I was underwhelmed. It tasted Okay, just not what I was expecting even though I didn't know what to expect. I hope you understand what I'm saying. So Kimchi = Acquired taste for me.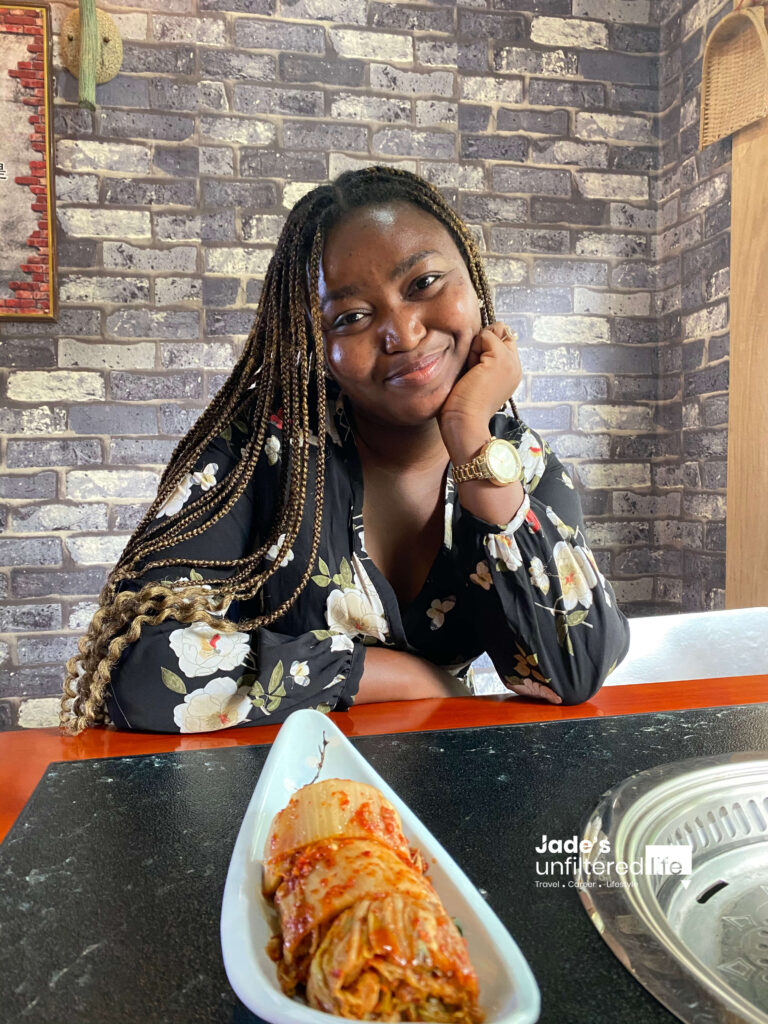 Me and my plate of Kimchi
I also had a drink called So-Jo (I hope I got the spelling right). It's a slightly sweet alcoholic drink and I must tell you, after 2 shots, I felt it. The best/worst part is that, it's sweet without a burning sensation so you can keep getting drunk going and you won't even know.
I couldn't take photos of both Hua Han menus because they were a little complicated, but here's a breakdown of what we had:
Cost of Meals at Hua Han
Korean BBQ Platter – 8800
Spicy Cabbage (Kimchi) –  3500
Korean Fried Chicken – 4500
Fried Shrimp in chilli sauce – 5800
Fried Squid in Black Bean Sauce – 5100
Steamed White Rice – 3000
I think the prices are fair but could rack up when they add the service charge, VAT and all of that. Now, after reading this review, what are your thoughts on Korean food? Have you ever tried it and who are you taking with you to Hua Han?
Until next time,
Try things at least twice before saying a hard no.