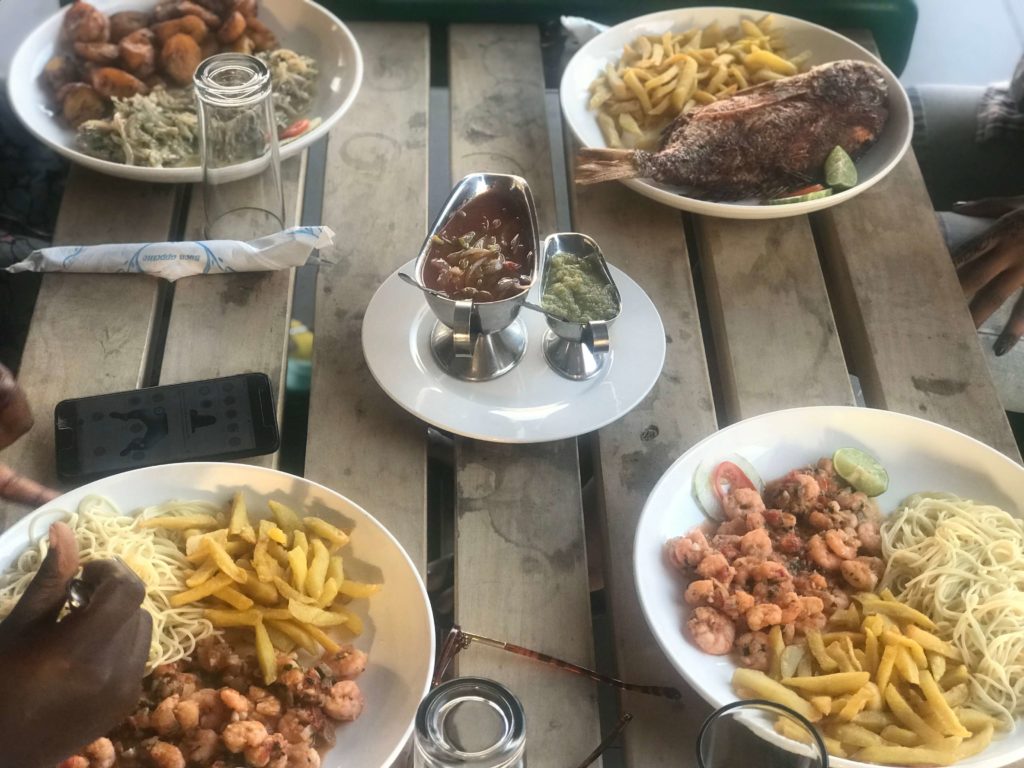 10 Sep

Exploring West Africa Part 2: My Ouidah Experience

I took a trip across 3 West African countries – Benin Republic, Togo and Ghana with a few friends and I am writing about my experience in parts. Before you go ahead, if you haven't read part 1, do check it out so you're not lost along the way. 

The second part of my West African Road trip diary has all the details about transportation, accommodation, and food.
Transportation
Before leaving Lagos, I read a lot of blog posts talking about stressful the border crossing might be and I already braced myself for it. 
Surprisingly, it was so smooth. As we were all first-time travellers, we paid 3,000 Naira each to get our Passports & Yellow Cards stamped. We had a plug so we didn't have to come down from our car to cross the border as others do.
Our first stop in Benin republic was Cotonou and from there we took a direct taxi to our hotel in Ouidah. After that, we moved around with Keke (what we called Okada).  
Accommodations
We spent 2 nights in Ouidah and stayed at Hotel De La Diaspora. This hotel has rooms overlooking the sea as well as a well-maintained swimming pool. The staff were also really polite, even though they struggled to understand our broken French.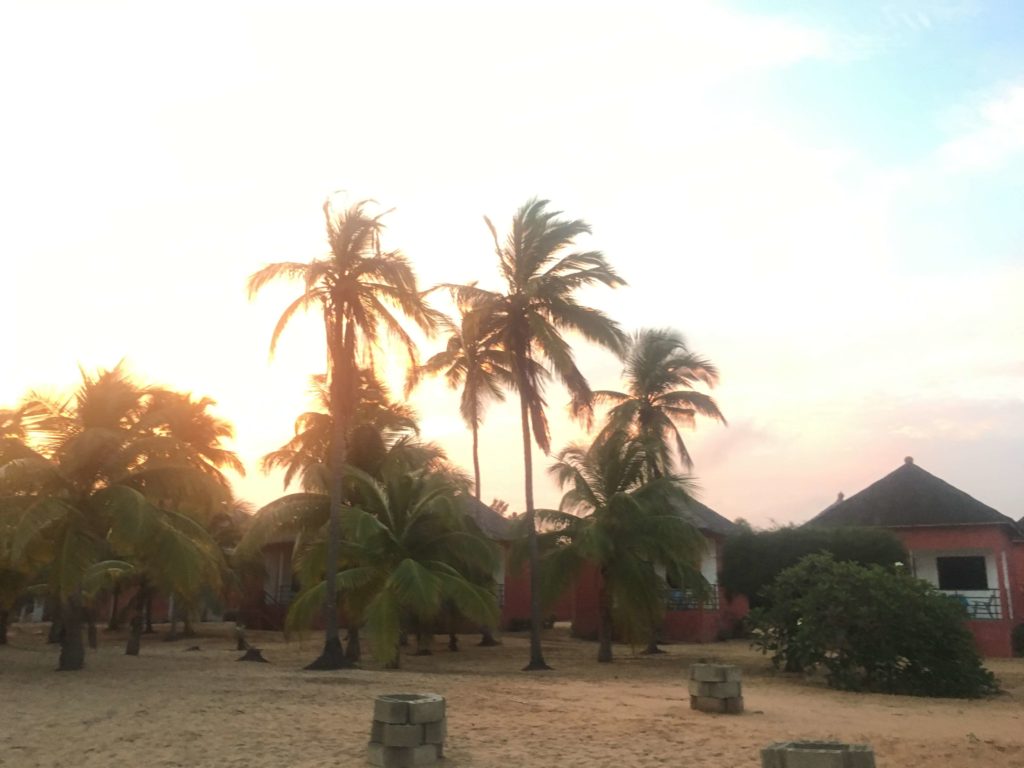 The chalets overlooking the sea. I forgot to take photos of my room but it was pretty neat
Language
Benin Republic is a french-speaking country so if you want to get the most out of your experience when visiting Benin, you must be able to speak French.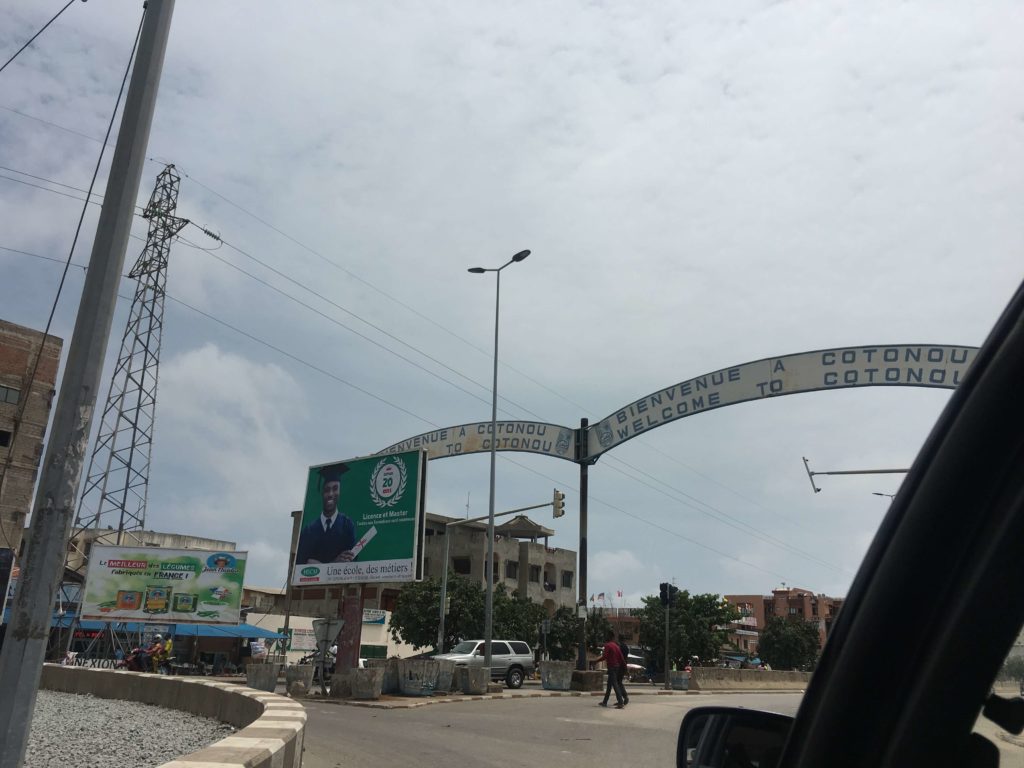 Spot the Welcome to Benin Republic messages
If you're like me and can read French, but speaking the language is a little hard for you, then make sure you have a guide or have the Google Translate app at all times. The hotel staff were very helpful when we needed to communicate with people.
The other languages spoken in Ouidah are Fon and Yoruba but we didn't speak to any Yoruba-speaking person before we left.
Currency Exchange from Naira to CFA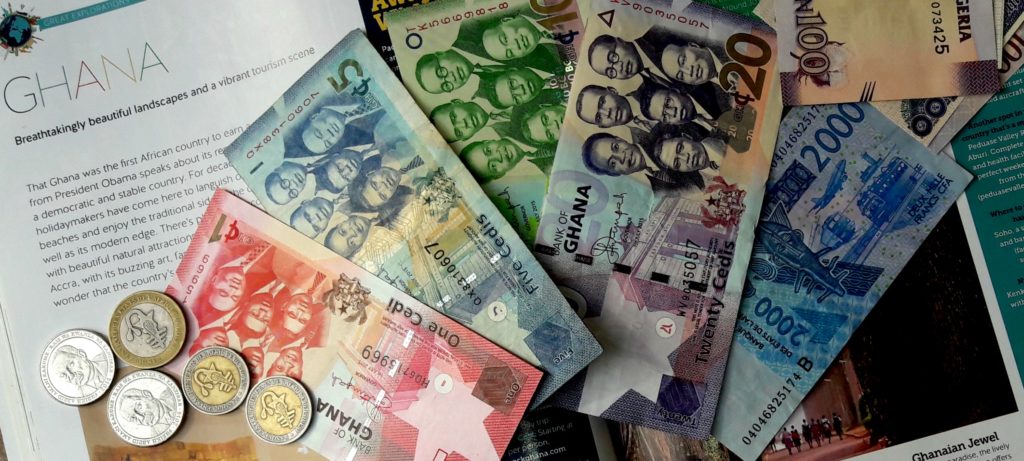 Photo credit: Amarachi of Travelwithapen
As at the time we travelled (August 2019), 1000 Naira was changed to 1600 CFA. Nkoyo spent some time in Benin and said that 1000 Naira used to be exchanged for 3000 CFA. Her rent at the time was 40,000 CFA per annum, that's about 14,000 Naira. How times have changed.
Power Plugs in Benin Republic
Power plugs in Benin Republic are Type E. We had to ask for adapters to help us charge our devices.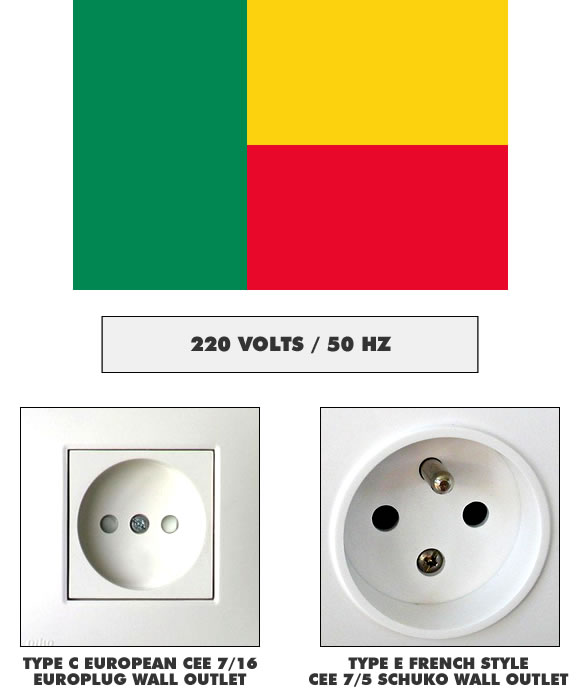 Credit: Adaptele.com
If you plan to travel to Benin Republic, you must get a power plug adapter so you're able to charge your devices with ease.
Food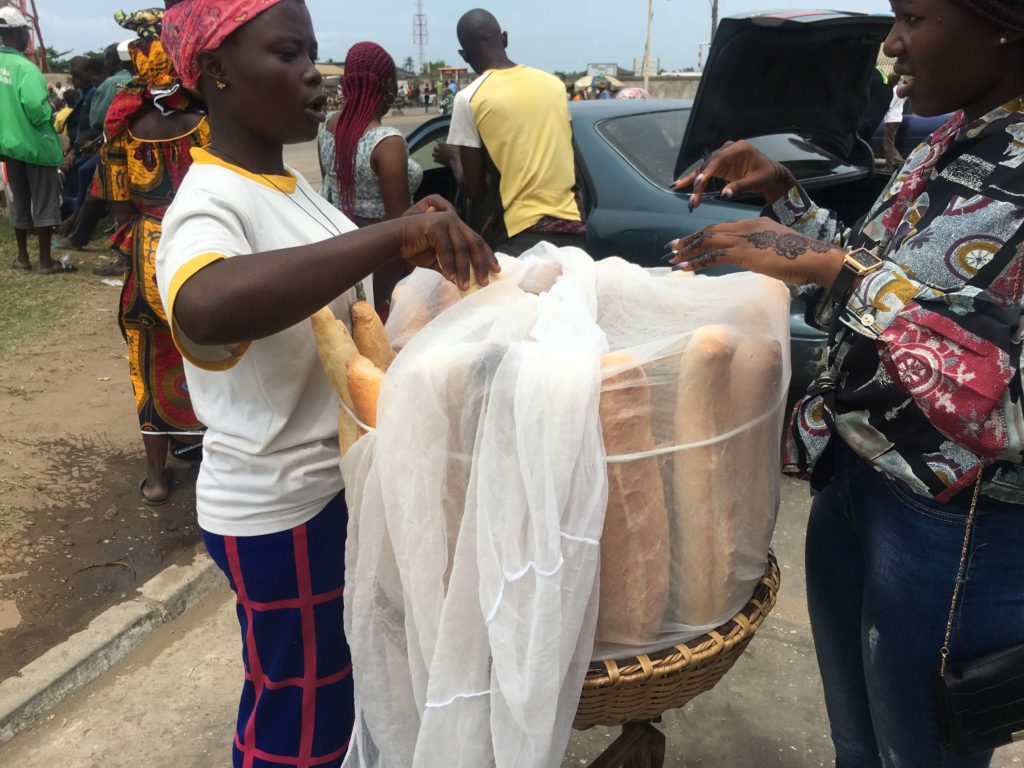 Bargaining for our bread
My tastebuds are very adventurous so trying new food has never been an issue. While at the Seme border, I bought and ate a Beninoise snack – Baguette (bread) and Guacamole (didn't get the local name). The guac was made from Avocado, lime, salt, onions and a splash of oil. I loved it!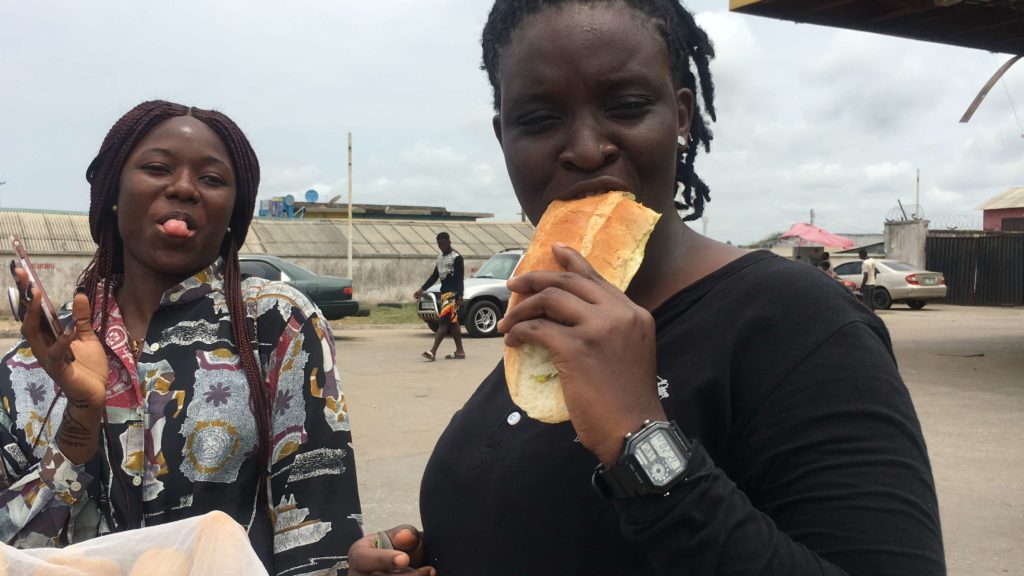 One of the promises I made to myself for this trip was that I was going to "Eat Fresh and Explore More". Since our hotel overlooked the Atlantic ocean, it only made sense that they had the freshest of seafood.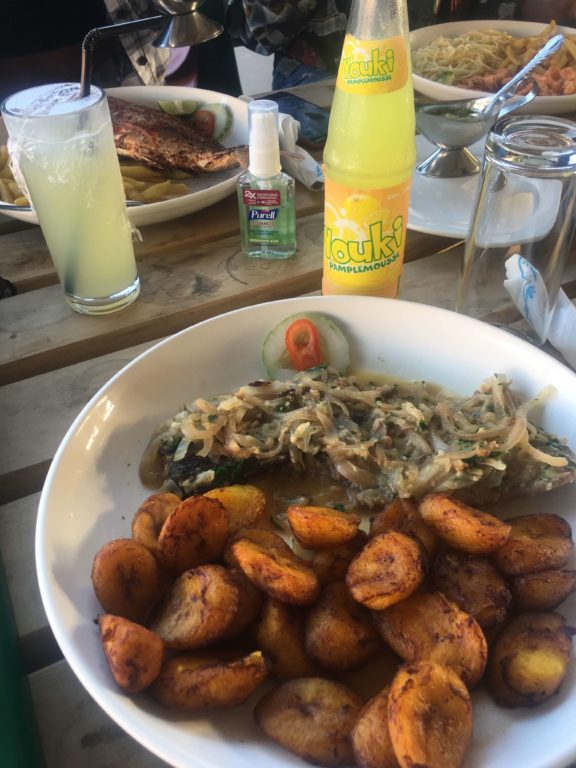 What I had for Lunch at Hotel De La Diaspora – Alloko (Dodo) and Fish cooked with white wine. It was delicious. Peep my Youki drink.
Our lunch order was varied and we didn't regret anything. The shrimps were sumptuous, the pineapple juice was freshly squeezed and the sauce on the side of our meal was just perfect. Our tastebuds were in euphoria.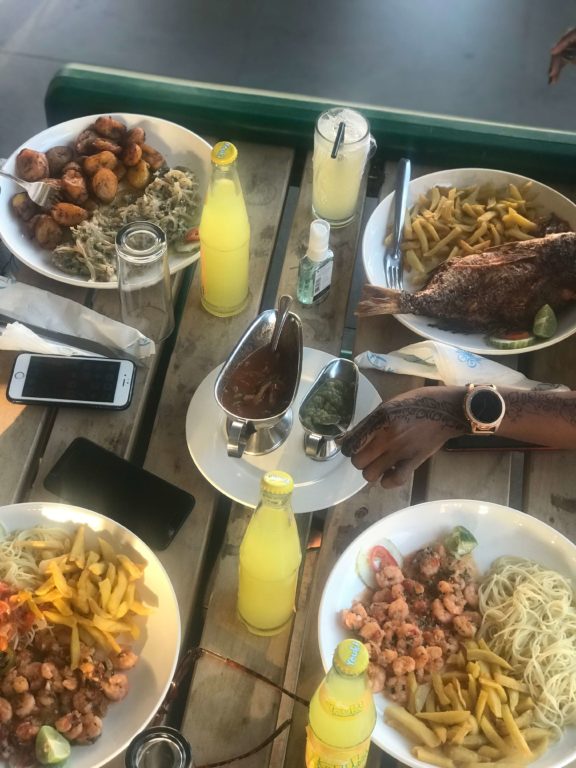 Everything on this table cost less than 30,000 CFA (excluding the phones, lol)
By the morning of the next day, we went out for breakfast provided by our hotel. This time we had bread, eggs, tea/coffee and pineapple juice.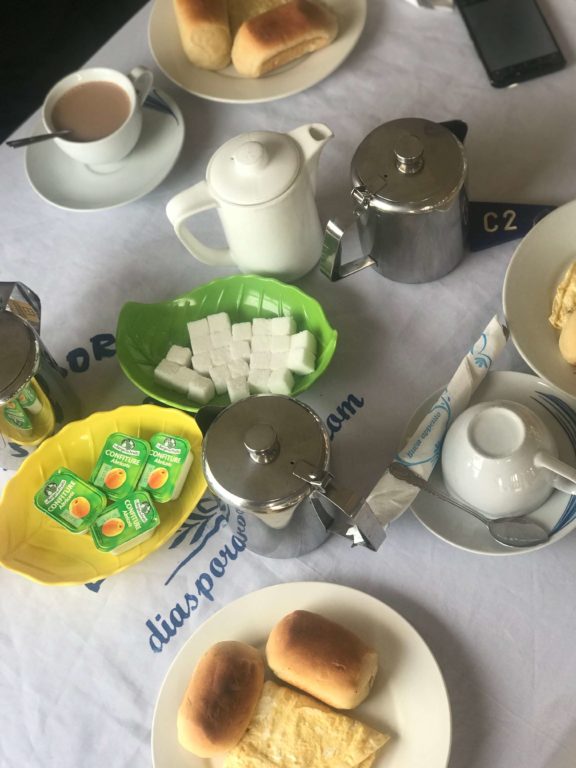 For lunch of Day 2, Nkoyo introduced us to something called Lait Caille au pain which is curdled milk with bread. It was cold and refreshing and just we needed after the exploring major sites in Ouidah.
Lait Caille et du pain – It was cold and refreshing.
When we got back, we wanted to have lunch at Casa Del Papa but reviews weren't so encouraging so we went to a restaurant called La Manne. Guys, their customer service is/was top-notch.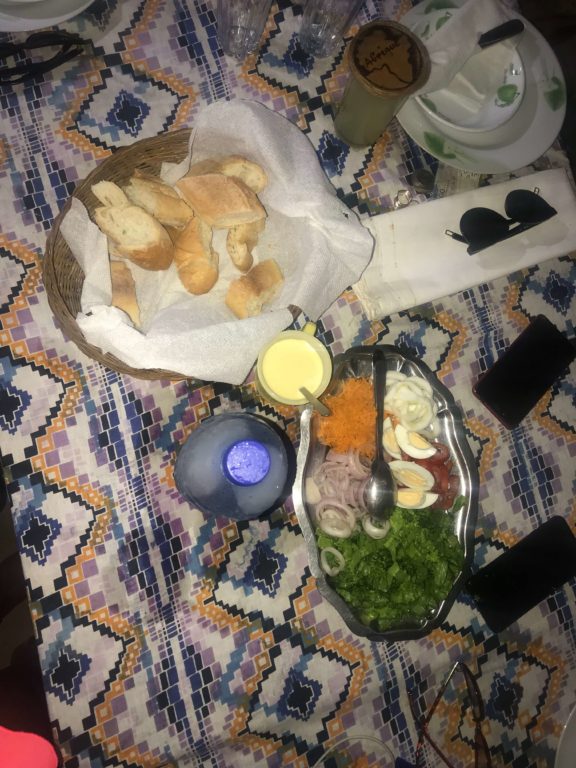 Bread and Salad for Starters
We had issues communicating due to the language barrier but when the food came, we were more than impressed. For about 4500 CFA per person, we got a 3-course meal – Salad for Entree, Couscous/Fries/Rice with Fish/Chicken for the Main Course and Fresh pineapples for Dessert (or exit as we jokingly called it).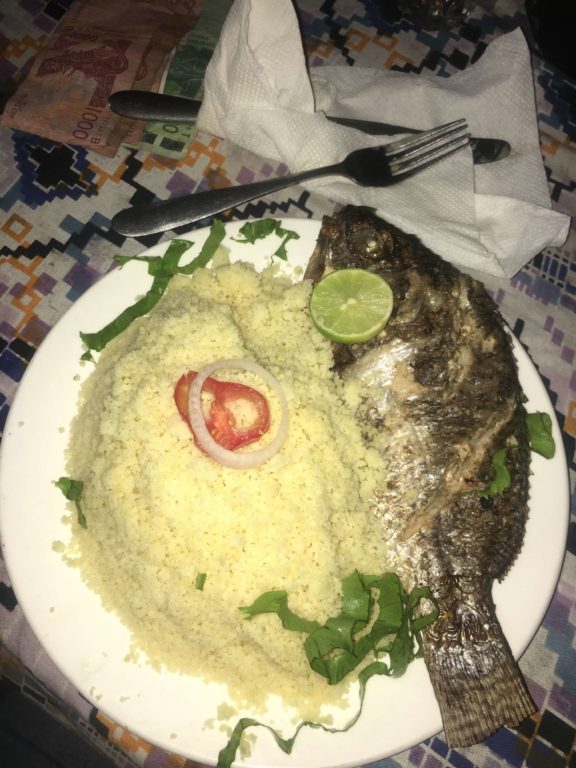 Couscous et poisson – the sauce (not pictured) was amazing.
If you're ever looking for a restaurant in Ouidah, please visit La Manne Plus, it's along the Slave Route.
Is Ouidah on your bucket list, I'm taking another trip through West Africa this December. You can send a message to @bourgietravel on Instagram if you want to be a part of it.