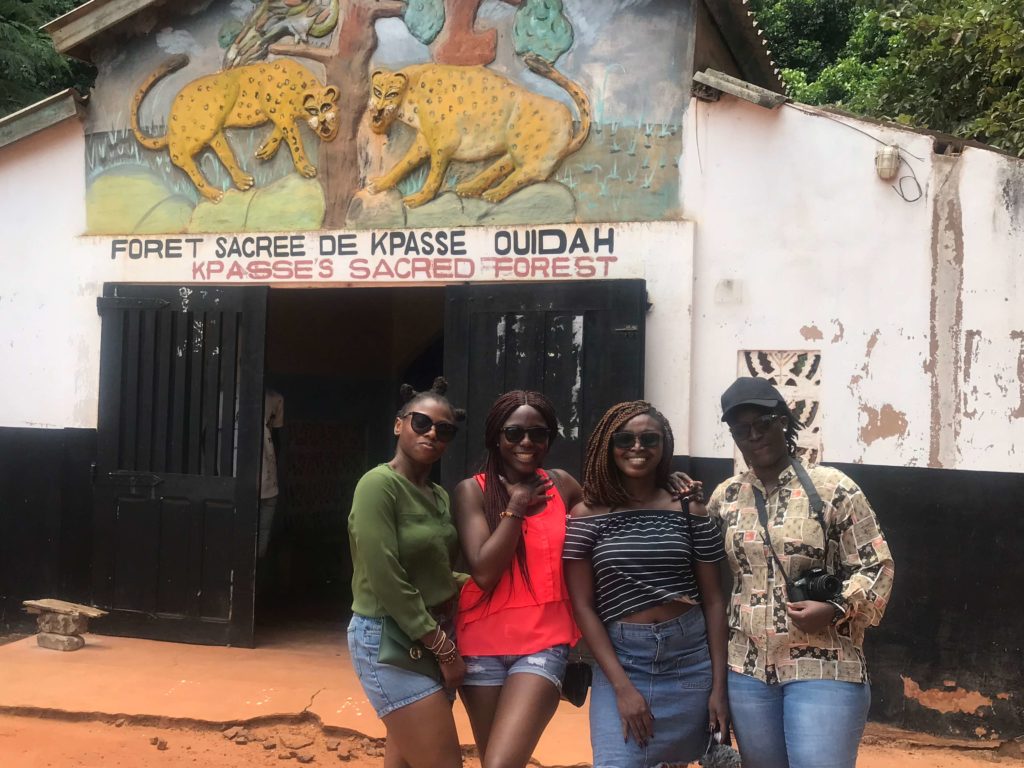 31 Aug

Exploring West Africa Part 1: Ouidah, Benin Republic

I left Lagos on this road trip to Ouidah, Benin Republic, then Togo and Ghana with 3 of my friends, Nkoyo, Moyosore and Rachel. Our ultimate destination was the Chale Wote Street Art Festival in Accra, Ghana, but we decided to make an adventure out of it by stopping over and exploring 2 other West African countries. Over the course of the entire journey, we visited 3 countries, 4 major cities and spent 8 days and 7 nights.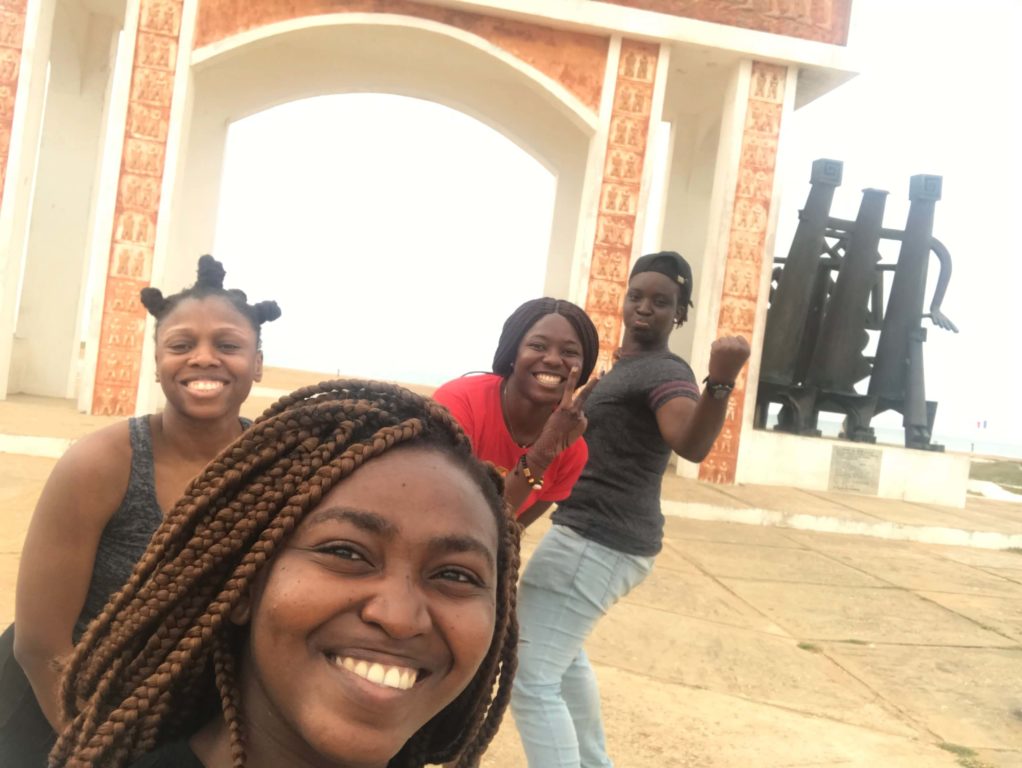 Preparing for the Trip
To travel to most African countries, you need to get vaccinated for Yellow fever. Most people are focused on getting the Yellow Fever vaccination card but it's important that you actually get vaccinated. As at the time of this post (August 2019), there are reported cases of Yellow Fever in some parts of Nigeria.
For this trip, my friends got vaccinated at the Ikeja Ports health office while I got vaccinated at the Enugu ports Health office. You would need to pay 2000 Naira on Yellowcard Nigeria website and then take the payment evidence as well as a copy of your passport data page along with you.
You will also need either an E.C.O.W.A.S travel certificate or your International Passport. If you're travelling by road, you can go without either of these but it's advisable to have them. We knew we were flying back to Lagos from Accra so we just made sure we travelled with our International passports.
Getting to Benin Republic
There are 2 major ways of getting to Benin Republic from Lagos, Nigeria. One is to fly into the country's capital, Cotonou with a number of airlines – Asky airlines, Air Cote D'Ivoire, Rwandair, and Turkish airlines. This option isn't cheap (and a little unnecessary) so let's move over to option 2.
This involves going by road through the Lagos-Seme border. Contrary to the mindset we had before travelling, it was actually stress-free and I would recommend this to anyone who wants to travel through West Africa.
Most major parks in Lagos such as Oshodi, Obalende, Mile 2, and Ojodu Berger have buses that go directly to Seme border. Once you're done with immigration hassles, you can take a cab/bike to Cotonou from the Border.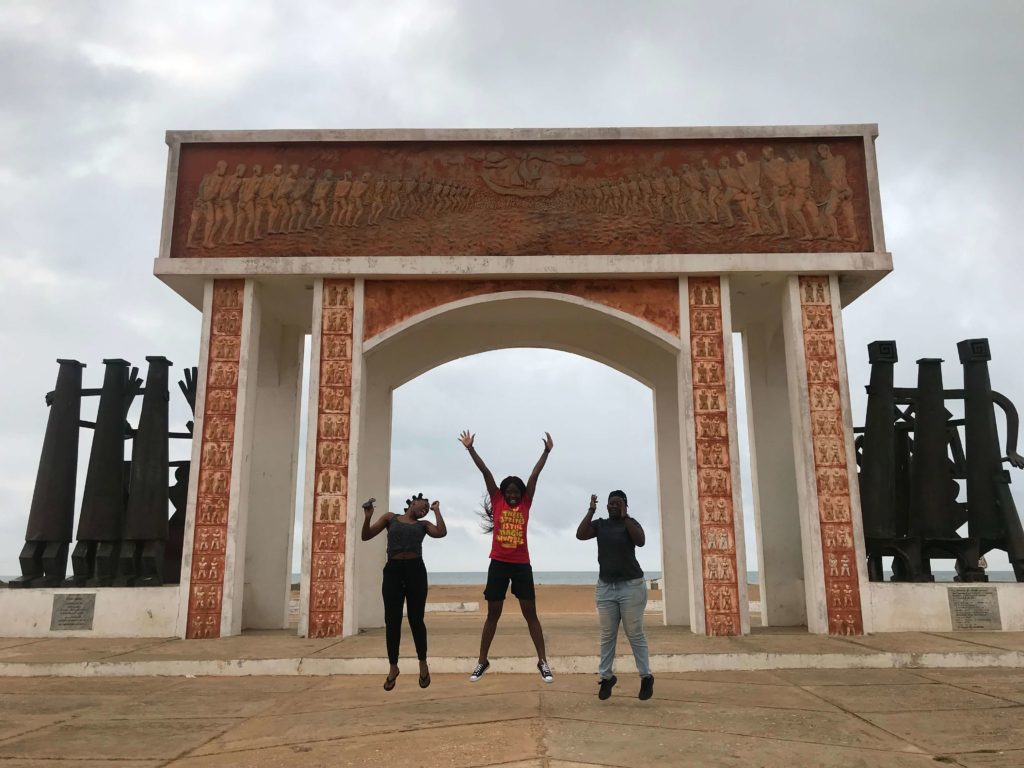 For us, we booked a cab from Mile 2 and did that all the way to Ouidah, the actual city we were visiting.
The sight of 4 ladies travelling from Lagos into Benin Republic just for tourism seemed so absurd to the immigration officers along the Badagry-Seme border. Some of them behaved like they were seeing, hearing about a wonder – Americana wonder. 
3 times we had to explain that we were really just going into Cotonou to have fun and 1 time, we had to come down and tell our occupations and life history to the officers. While I'm grateful that these fine men are doing their best to keep Nigeria safe, it was also 3 stops too many.
Visiting Lagos for the First Time? Here's Why You Must Visit the Kalakuta Museum
Exploring Ouidah
Ouidah is a renowned UNESCO world heritage site and I especially love the fact that it has clean private beaches.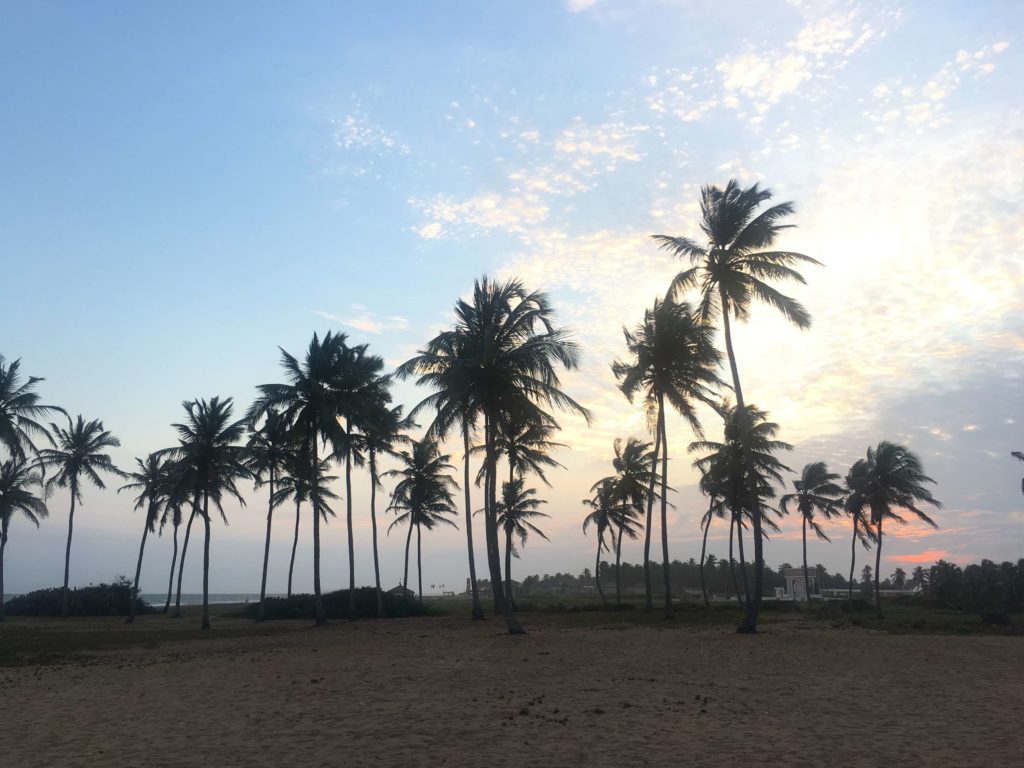 During the 17th- to 19th-century Atlantic slave trade, the city of Ouidah was used as a port for the transportation of slaves from Africa to other parts of the world including France, Portugal, Brazil, and England. Scattered around the city are monuments and relics from the era including the Door of No Return and the Slave route i.e Route des Esclaves.
Because of the many merchants and traders that came into the town, Ouidah has different pronunciations. Here are some of them: 
The original name of the city is Houedah/Xwedah

Portuguese: Ajuda or Juida

French: Ouidah

English: Whidah or Whydah
Of all the variations, the French pronunciation is the one mostly used today although some of the locals still say Houedah.
Ouidah is also the spiritual capital of the Voodoo/Vodun religion. Vodun is religion practised by the Fon people of Ouidah in Benin Republic, Togo and even some parts of Ghana and Nigeria. Every year, they host a Vodun conference that attracts devotees from all over the world.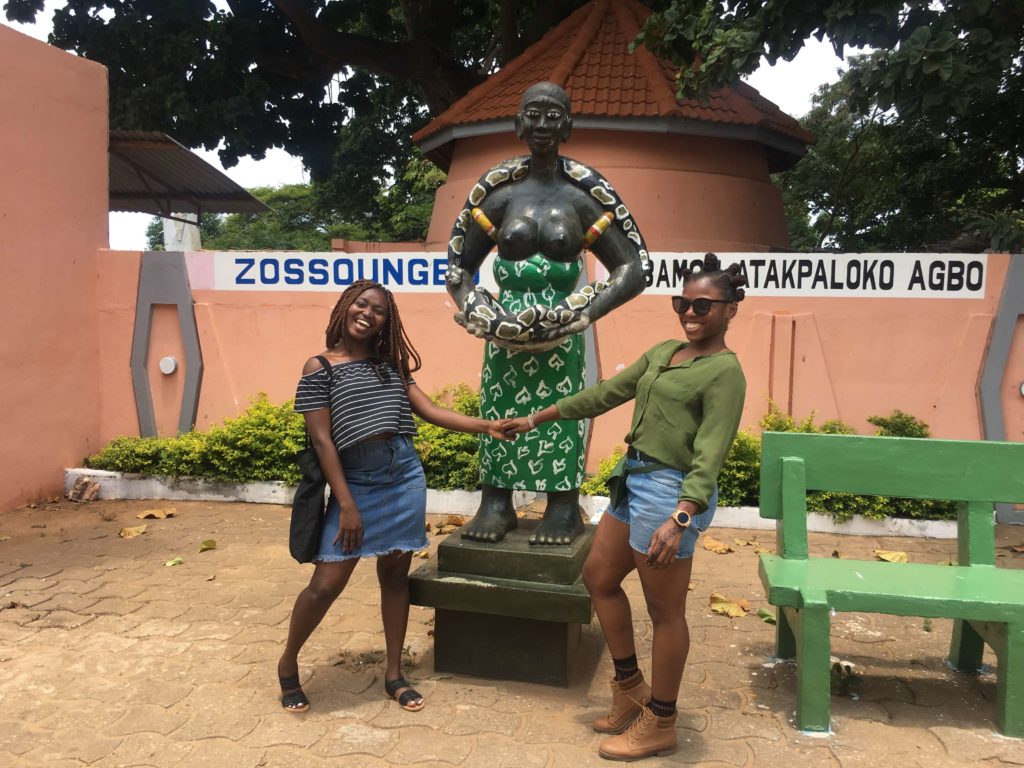 Outside the Pythons Temple
Pythons are an important part of the Vodun religion and they have a royal temple to house and worship the royal snakes. Legend has it that the worship of pythons in Ouidah began after war broke out between the people of Dahomey and Ouidah in 1717. When it was apparent that Ouidah was falling, King Kpassè, ruler of the kingdom of Ouidah, fled and took refuge in a big forest (now known as the Sacred Forest) to escape capture by the notorious Ghézo warriors of Dahomey. Many pythons came out of the forest to protect king Kpassè of Ouidah from being captured.
What I did in Ouidah
Python Temple aka Temple des Pythons
Did you know that pythons have 5 marks on each side of their mouth? Did you also know that not all pythons are venomous? Well, I just learnt that as well!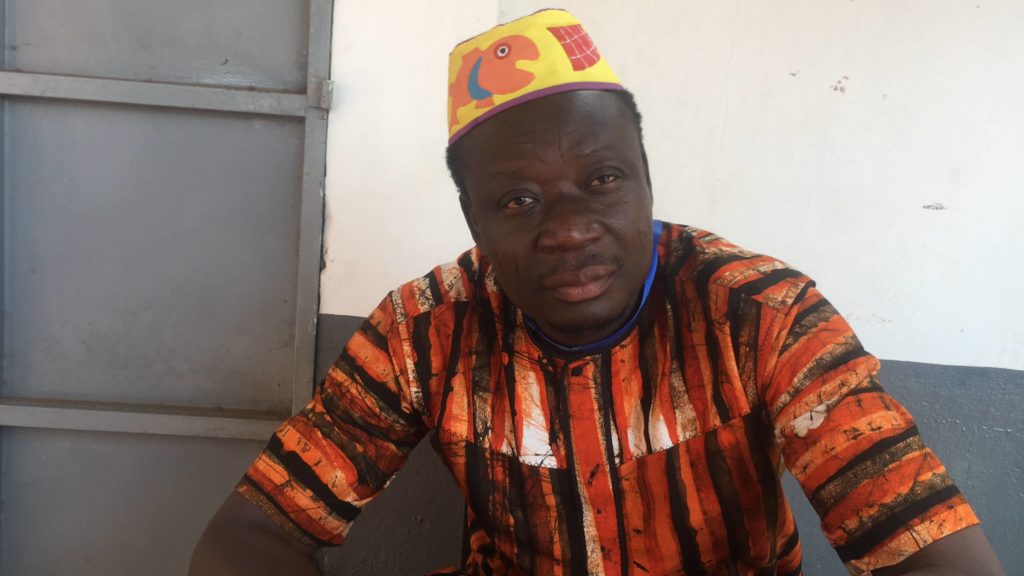 If you look closely, you would see the python marks on his face. 2 on his forehead, 3 on each cheek and 2 on his chin.
Like the python, python worshippers have 5 marks on either side of their face and greatly rever the pythons. They don't eat the snakes and if they die, they are given a befitting burial in the Sacred forest. I got to carry one and even take photos. Brave me!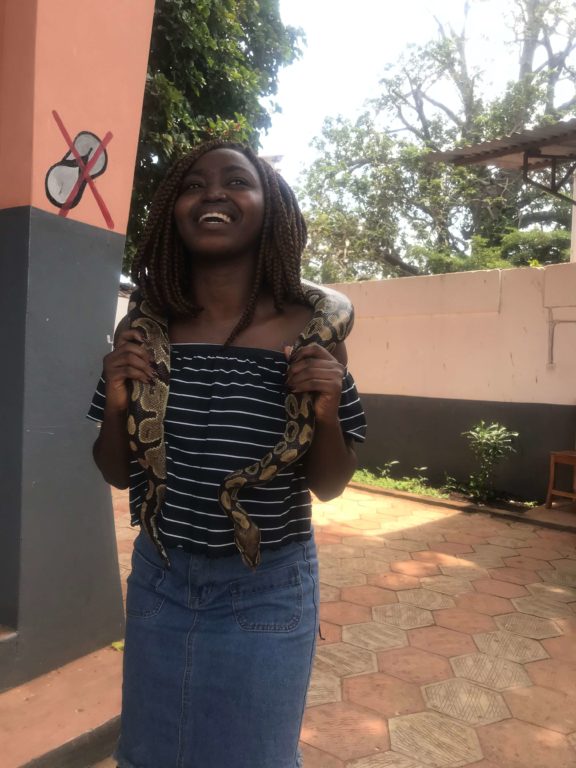 I don't think you noticed but there's a python on my neck.
Sacred Forest
Remember that sacred forest where the King Kpasse was protected by pythons and the place they are buried when they die? Well, we went there as well. Abdul, our tour guide explained the stories behind some of the statues we found there and to be honest, West Africans have the same gods/deities. There was a statue of Ogun as well as Legba, Yaotu (god of sand), Bisefa (2-faced god and protector of the King), Amasino (Ifon) among others.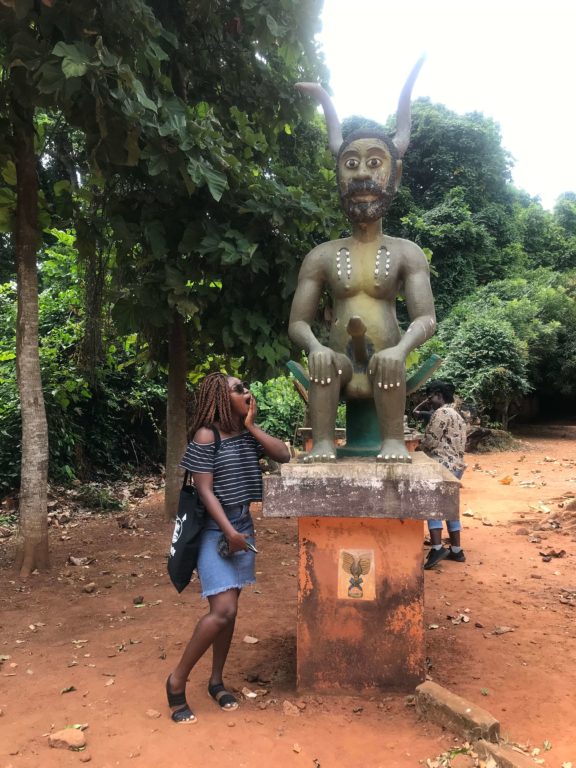 Legba is known as the chief of all Vodun deities and is seen as an intermediary between gods and humans.
We also learnt that Dahomey, means the snake that ate itself and we saw the first-ever brick house in Ouidah.
Ouidah Museum of History
We also visited the Musee D'Histoire De Ouidah in Fort of São João Baptista de Ajudá. The fort is a small fortress built by the Portuguese in Ouida and was under Portuguese control from 1721 until 1961. Here we saw some relics of the slave trade era as well as a genealogy of the Kings of Ouidah and Dahomey.
What I learnt here:
King Béhanzin was Abomey's last independent ruler established through traditional power structures. He resisted the French during the second Franco-Dahomean War and was exiled to Algeria after the French conquered Benin Republic.

Beninoise have 41 known deities and 41 is a special number to them For example, the ancient kings had 41 wives and they had to wait 41 days after a king's death to crown a new king.

Ouidah has not had a king since it was conquered by the King of Abomey

Ouidah people believe that while no one returns alive after being traded as a slave, they could come back as "Espiris des morts" aka Egungun/Masquerades.

There are many similarities between Brazilians and Beninoise

Slave trade era was a dark time
We went on to visit the Salt city/village of Djegba Ji.
Djegba Dji
We discovered this village by accident and it turned out to be a very memorable tour. Our guide Abdul led us on afternoon boat ride where we learned that Djegba Dji is the largest community of salt makers in Benin Republic.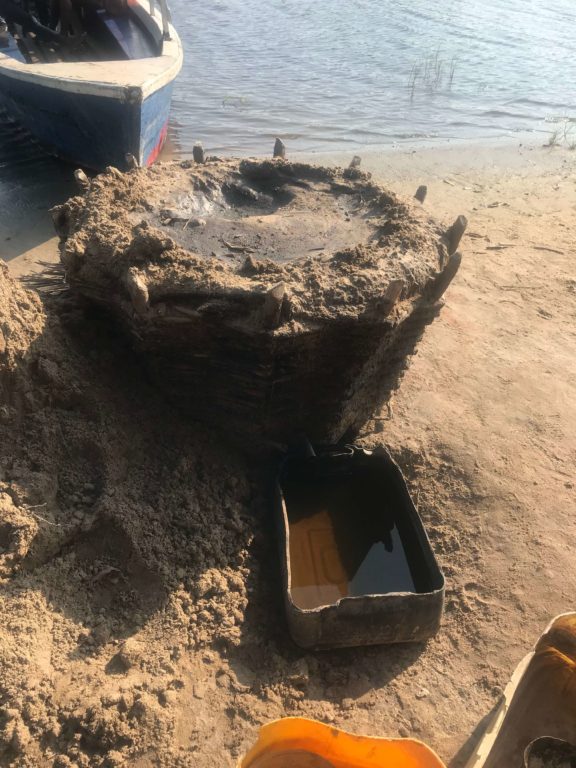 The sand is used to filter impurities and concentrate the saltwater in the keg. The water is then evaporated to produce salt in Djegba Dji.
Djegba Dji is a collection of 7 villages separated by waterways whose major occupation is salt making. Other occupations include fishing and farming. During our visit, we saw how they process salt from the lagoon water and the evaporated it.
After our Djegba Dji tour, we took a quick tour to Casa del Papa before heading back to our hotel.
To read Part 2 of my Exploring West Africa series, please click here: Exploring West Africa Part 2: My Ouidah Experience.
Don't forget to leave a comment and share with your circle if you enjoyed reading this.
Till Next Time,
xoxo.