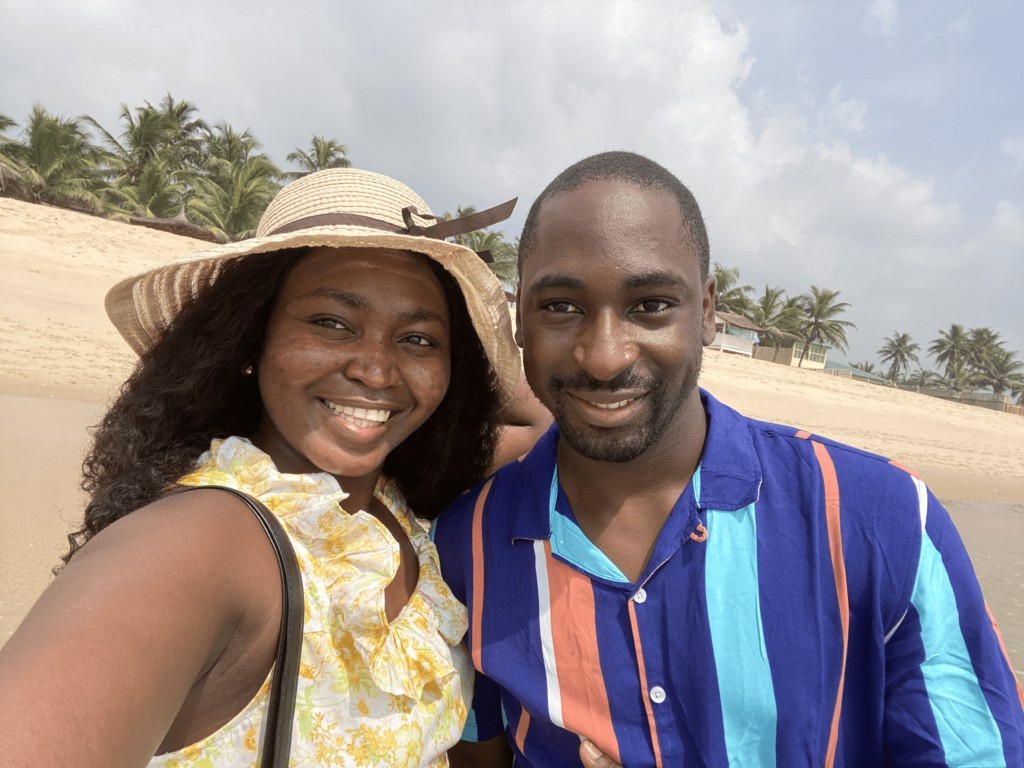 01 Mar

Is Jara Beach Resort the Best Holiday Spot in Lagos? How I Planned a Beautiful Birthday Staycation

Jara Beach Resort is a beautiful holiday/getaway spot right here in Lagos, Nigeria. Sometime in October, I started drawing up plans for my fiance's birthday in December. I knew I wanted to do something that he did not expect so he won't see me coming 😃.

After making inquiries, I decided to plan a staycation at Jara for a few days. Because the rooms go so fast (they were 70% booked for December), I quickly locked in my dates and paid. It was so hard to keep the entire thing a secret but I'm happy to announce to you all that it was worth it! The birthday boy absolutely loved the surprise(s) I had planned for him.
Getting to Jara Beach Resort
The resort is off the Lekki Free Trade Zone Road, after Amen Estate. It's located at Museyo Beach, Eleko. Google Maps predicted a 2-hour drive so we set out from Yaba around 11 am. We tried to get there before the 1 pm check-in time but we got into a little traffic along the way. This, as well as some stops along the way, pushed our arrival to some minutes after 3 pm.
Our Room
Remember I said that they were almost booked solid at the time I booked, well all the Standard rooms were taken and only the newly-built family cabins were left. This worked out well in the end as we had a lot more space in the room and a cute porch with a swing chair.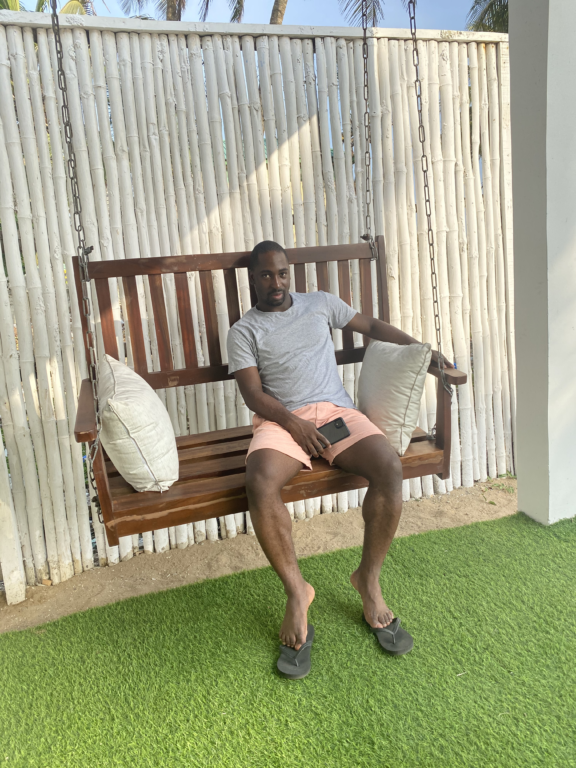 Price
For those looking to visit but who don't want to stay overnight for whatever reason, you can purchase a day pass for as low as N22,500. Overnight stays start from ₦135,000 for a single guest and ₦150,000 for 2 adults. Depending on the day of the week, discounts are available for multiple overnight stays. These prices are inclusive of meals, drinks, and snacks. For more details, visit the Jara beach resort website.
Activities at Jara
Apart from having a beautiful beach front, the resort is packed full of activities making sure you don't need to head out for anything. There is a game center with Tennis, Snooker, card, and board games. Jara also has a gorgeous clean swimming pool for those hot afternoons.
We asked for a picnic by the beach while watching the sunset and the staff was kind enough to provide us with snacks and wine. On another morning, I tried to recreate the Bali floating breakfast experience in the pool and it was okay. I'm still looking forward to doing it in a proper "private" infinity pool someday.
My Experience and Review of Jara Beach Resort
Each night, I was lulled to sleep by the sound of the crashing waves, and each morning, I woke up to enjoy the most beautiful sunrise. Living in a city like Lagos makes it hard to notice these seemingly little, yet beautiful things so every chance I have to experience it, I drink it all up.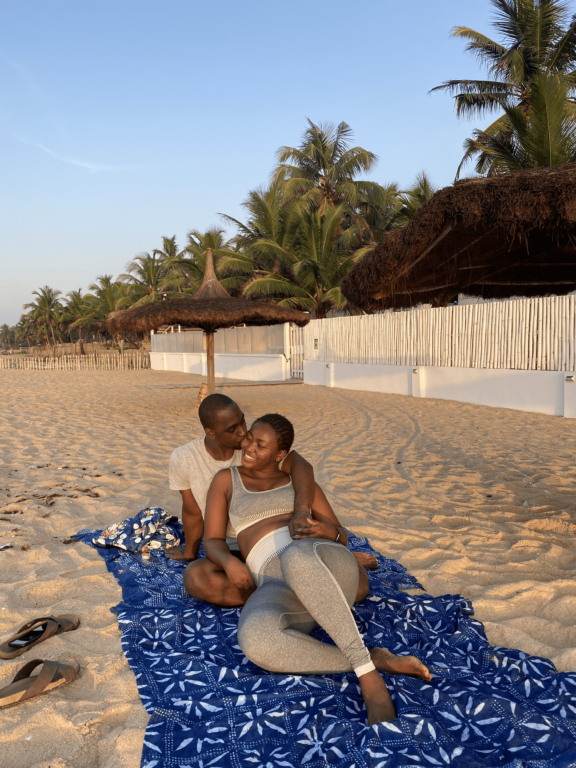 Unlike my typical experiences, I was more intentional about relaxing and enjoying myself. We slept a lot, laughed a lot, danced to no music, and ate to our heart's content. My favorite type of vacation might be changing – who knows I might just stick to hotel stays instead of hiking. 🙂
See also: Hiking Arinta Waterfall, What Lies On The Other Side Of Erin-Ijesha
Food is one sure way to my heart and once the food is delicious too, you can take the keys as well. The food at Jara snatched my edges a couple of times (as evidenced from the number of times I ate without my wig).
Not only was the food nice, but the staff was really courteous and this made it evident that they pay attention to details. All of these made us quite reluctant to leave and I know that I will definitely be back there soon.